In the afternoon of October 22nd, the establishment conference of ACM Hefei Chapter has been successfully held in Foreign Economic Building, Hefei City, China. The conference's organizer was USTC, and its co-organizer was Anhui Architectural University. Prof. XIONG Yan from USTC hosted the meeting. It should be noted that Prof. XIONG also is the chairman of ACM Hefei Chapter. There were lots of specialists and scholars, including Alex Wolf (Chairman of ACM), Michael Stonebraker (Turing Award winner of 2014), Robert Schnabel (ACM CEO), Pat Ryan (ACM COO), and Prof. LIU Yunhao (ACM President of the China Council, Dean of School of Software, Tsinghua University) etc., delivering the speech of congratulations. Furthermore, nearly 100 experts of computer field from inside and outside Anhui Province attended the meeting.
XIN Shuang, ACM director of China Council, firstly gave a brief introduction of honored guests and relevant situation of ACM China Council at 4:00 pm. Then, Alex Wolf came to congratulate the establishment of ACM Hefei Chapter on behalf of ACM, and Robert Schnabel presented the basic situation of the ACM. Michael Stonebraker also gave congratulations and thanks for the invitation from the chapter.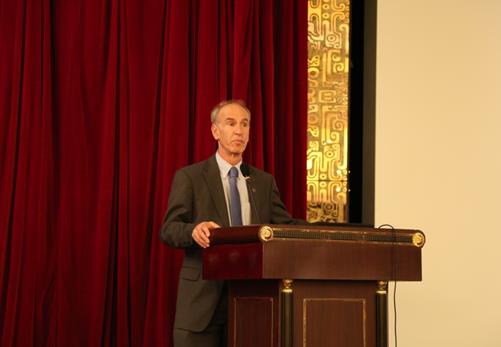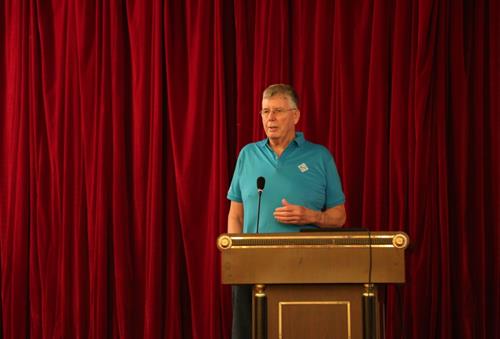 At 4:40 pm, Alex Wolf, Robert Schnabel, Michael Stonebraker, Pat Ryan, Prof. XIONG, and Prof. WANG Xinbin who is ACM Vice-President of the China Council from Shanghai Jiaotong University, came together to launch the ACM Hefei Chapter. Subsequently, President LIU Yunhao issued letters of appointment for ACM Hefei Chapter.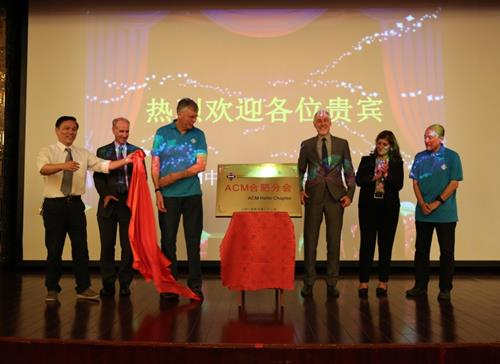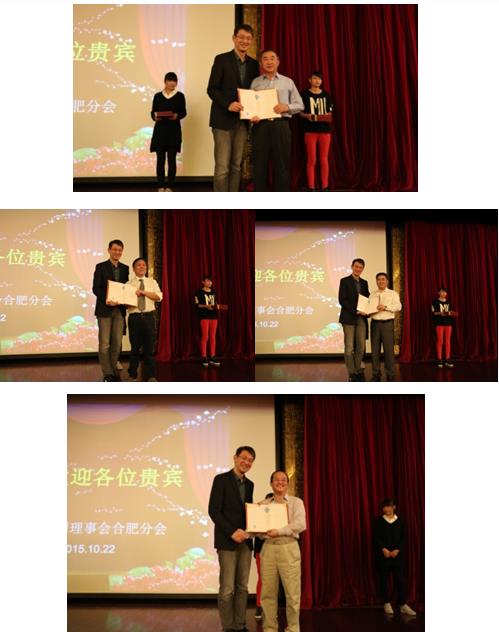 Researcher SUN Yining from Institute of Intelligent Machines of CAS and Prof. CHEN Huanhuan from School of Computer Science and Technology of USTC had made academic reports respectively before the meeting.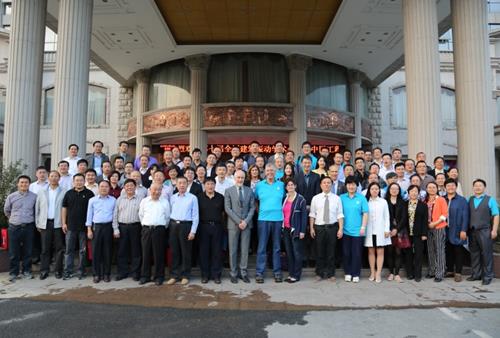 ACM (Association for Computing Machinery), founded in 1947, is a worldwide organization of professional computer professionals, and it was recognized as the industry's premier computer professional organizations, to provide the computer industry's leading digital library services, publications, conferences, and career resources . Currently, it has a membership of 12 million people throughout the education, academic, industry, government professionals, and students. The highest award ACM Turing Award (Turing Award) is called the Nobel Prize of computer science. ACM China Council was established in 2010, the country has about 30,000 members, 15 affiliated clubs, including Shanghai Chapter, Nanjing Chapter, Chengdu Chapter, Jinan Chapter, Lanzhou Chapter, Chongqing Chapter, Changsha Chapter, Guangzhou Chapter, Wuhan Chapter, Dalian Chapter, Zhengzhou Chapter, Beijing Chapter, Taiyuan Chapter, Tianjin Chapter and Hefei Chapter. And there are 3 chapters in the preparatory process. ACM China Council established the Rising Star Award and ACM Doctoral Dissertation Award for outstanding Chinese and edited and published the ACM Computer Communication (Chinese version). In addition, ACM China Council also sponsored the Chinese Internet of things application innovation contest.
ACM Hefei Chapter was approved on March 27th, 2015. It aims to strengthen the research of computer education in Anhui province and the connection and communication between the industry and the domestic and international, and to enhance the research level of computer education in Anhui province. The Executive Council is composed by 20 colleges and 2 information technology companies in Anhui Province, and the current membership is more than 200 people.
The first standing council of the chapter was held on May 3th, the election yielded the main person in charge. Prof. WANG Xufa of USTC, and Prof. XIONG were selected to be honorary chairman, chairman respectively. Prof. FANG Qiansheng (President of Anhui University of Architecture), Prof. LIU Xiaoping (Vice President of HeFei University of Technology), and Prof. WU Feng (Dean of School Information Science and Technology, USTC) were voted to be Vice-Chairman. Associate Prof. MIAO Fuyou (School of Computer Science and Technology, USTC) was voted to be Secretary-General.
(WU Zhize, School of Computer Science and Technology)