The work entitled "Dynamic Sampling Approach to Training Neural Networks for Multiclass Imbalance Classification" was awarded the Joint Li Siguang Sino-UK Publication Prize 2014. This research work was accomplished by Dr. Minlong Lin, co-authored with Prof. Ke Tang and Prof. Xin Yao of UBRI (USTC-Birmingham Joint Research Institute on Computational Intelligence and Its Applications).
The School of Computer Science of University of Birmingham (UoB) is ranked highly in U.K. In recent ten years, both Schools of Computers Science of USTC and UoB have established long-term and stable collaboration in the research field of Computational Intelligence. In this background, UBRI was established to further strengthen the cooperation.
UoB is located in the second biggest city, the origin of The Industrial Revolution – Birmingham. And it has a long history of collaborations and exchanges with Chinese academia. From 1907, when UoB recruited the first Chinese student, it has more than 7000 Chinese graduates. The well-known geologist Siguang Li is also one of the alumina of UoB.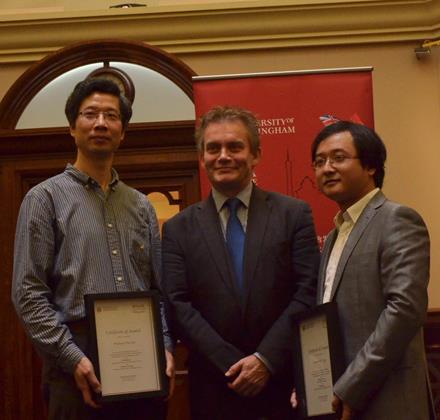 Prof. Xin Yao (left), Prof. Ke Tang (right) and the presenter Prof. Jon Frampton (center) in the award ceremony.
(LI Yang, School of Computer Science and Technology)