On November 7th, the final of Parallel Application Challenge was concluded through 6 months of careful preparation and fierce competition in Changlong, Guangzhou City, China. There were 85 teams, from all over the country, competing with 3 stages including the preliminaries, semi-finals, and finals. On September 28th, 24 teams entered the semi-finals, and USTC team reached the finals by the first of total score in East China. Then, 8 teams, from USTC, Peking University, Shanghai Jiaotong University, and Chinese Academy of Sciences etc., got in the parallel optimization final, and 6 teams got in the best application final on November 7th. Finally, USTC team won the championship of the parallel optimization, and the National University of Defense Technology team won the best application prize (http://www.pac-hpc.com/news_detail/newsId=36.html).
Parallel Application Challenge is a kind of nationwide high-performance computing event in China. And this year's competition was calculated by High Performance Computing Professional Committee of China Computer Society Professional Committee (CCF TCHPC) and Intel (China) Co., Ltd. The competition has attracted lots of domestic undergraduate students to enroll in, and its scale is the largest so far. Among these participants, the extremely prominent teams rushed into the finals and achieved good results.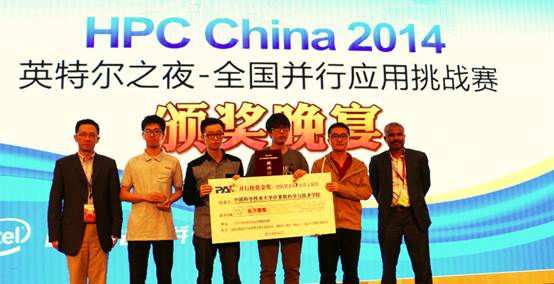 USTC won the championship of parallel optimization in HPC China 2014
USTC team was from School of Computer Science and Technology, and it was composed of 2 graduate students and 2 undergraduates, who were LI Feng, LING Weihao, SU Zhichao, and YU Yang respectively. The instructor, Prof. AN Hong, said that around the principle of "manage university with all the schools, combine institute and department", in the supports of Academic Affairs, Graduate School, and Supercomputer Center, School of Computer Science and Technology actively promoted the innovative practice education of the computer system, and advocated lower grades from undergraduate to develop the capabilities and interests in system design.
In order to make full use of the leading superiority in computing science and engineering education, USTC vigorously develop the students' overall quality in interdisciplinary research work, and has repeatedly organized students to participate in the design and application competition of kinds of high-performance computing systems at home and abroad. Consequently, the teaching effect is so obvious that attentions and praises from domestic and foreign experts are in an endless stream.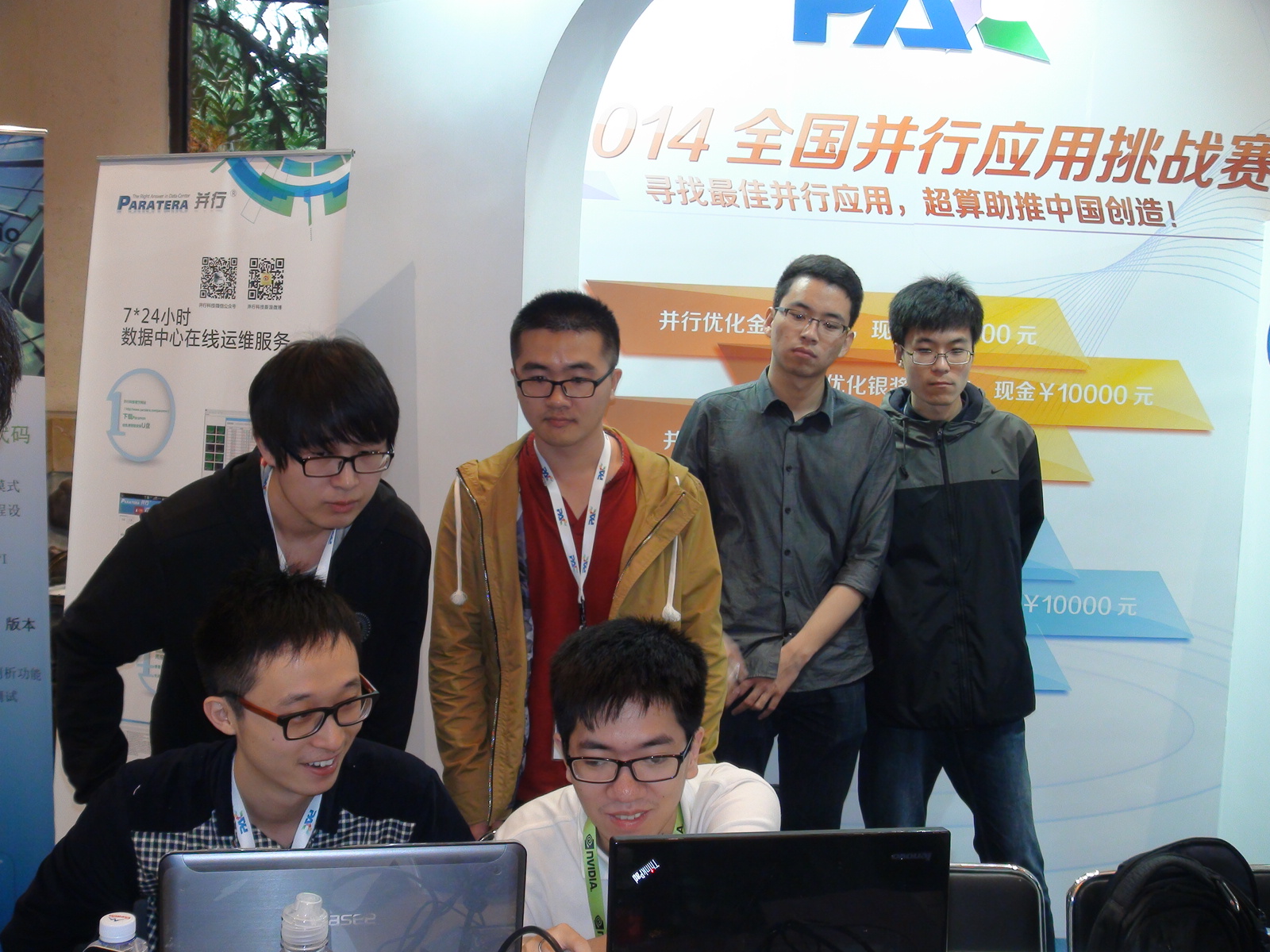 Four calm competitors in the final scene
(WU Zhize, School of Computer Science and Technology)