A research group led by Associate Professor Ye Tian from the School of Computer Science and Technology won the Computer Journal Wilkes Award 2016. The winning paper is "Cost-aware Capacity Provisioning for Internet Video Streaming CDNs". The paper's first author is Mr. Huajun He, who is a master student from the Computer Science School of USTC, and his supervisor, Dr. Ye Tian, is the corresponding author. USTC is the only affiliation of this award-winning paper.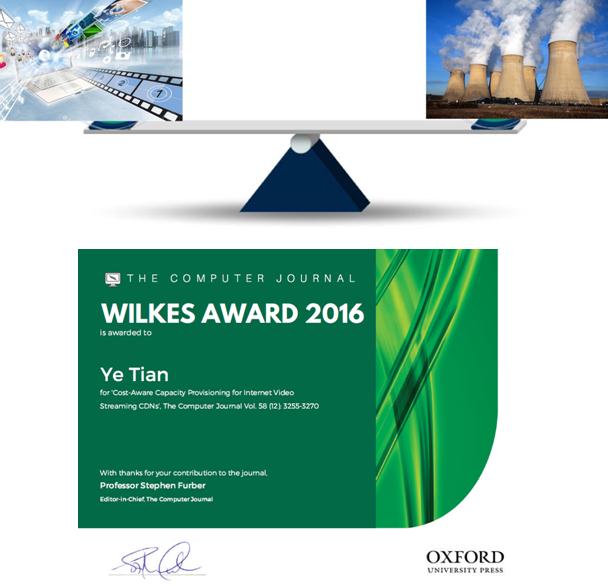 The paper addresses the issue that with the increasing popularity of the Internet video streaming services, content delivery networks (CDNs) are heavily used to stream video contents to users, and consume more and more power and bandwidths in recent years, and propose a cost-aware capacity provisioning algorithm, which dynamically plans the service capacities of a CDN's server clusters in numerous ISPs, and optimizes its overall operating cost regarding both the energy consumptions and the cross-ISP traffics.
The Computer Journal, which is published by Oxford University Press on behalf of the British Computer Society, is a high-level journal in Computer Science. The journal is also listed as a Class B recommendation journal by the China Computer Federation (CCF).
The Wilkes Award is given for the best paper published in a volume of The Computer Journal. It is awarded each year to the author(s) of a paper appearing in the previous volume (year). Criteria for the Award are originality and quality of theme and treatment. The assessment is made by members of the Editorial Board. The 2016 Wilkes Award is selected from 217 papers published in The Computer Journal in 2015. It is the first time that a research institute from Mainland China wins this award.
The research is funded by the National Natural Science Foundation of China, the Strategic Research Program of the Chinese Academy of Sciences, and the Anhui Provincial Natural Science Foundation.
Paper link: http://comjnl.oxfordjournals.org/content/58/12/3255.full
Further information on http://www.oxfordjournals.org/our_journals/computer_journal/wilkes_award.html