From January 23 to 24, 2020, the final of the 2020 China Computer Federation Big Data and Computating Intelligence Contest (CCF BDCI) was held in Changsha. The USTC STAR team, composed of 5 undergraduates from the School of Computer Science and Technology of the University of Science and Technology of China (USTC), won the championship in the openLooKeng performance optimization track of big data system.
CCF BDCI was founded in 2013 and is one of the most influential large-scale competitions for algorithms, applications and system challenges in the field of big data and artificial intelligence worldwide. In 2020, the 8th CCF BDCI attracted 37,994 teams from 25 countries, with more than 80,000 works submitted. The CCF BDCI is divided into 14 tracks, of which the openLooKeng track aims to improve the system performance of the domestic open-source big data virtualization analysis engine.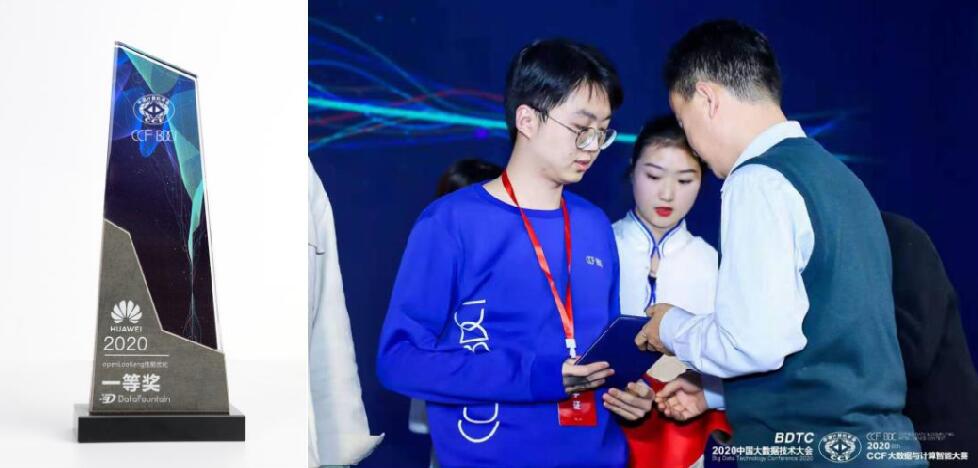 USTC STAR Wins 2020's openLooKeng Championship in CCF BDCI
During the two-month competition, the performance score of USTC STAR has been ranked first. In the final, the team won the system track openLooKeng track championship through their rigorous and bright defense, with an absolute advantage of 20% ahead of the second place. The performance of USTC STAR was highly recognized by Huawei. Invited by Huawei, the team has submitted two major technical solutions to the openLooKeng open-source community in the form of PullRequest, which is expected to be merged into the main branch after a rigorous technical demonstration to benefit the majority of users.
USTC STAR team
With the strong support of USTC and School of computer science and technology, Advanced Data Systems Laboratory (ADSL) has long been dedicated to solving the most challenging problem in basic core system software. Since 2020, the faculty and students of ADSL have won four national competitions. In the future, ADSL will continue to focus on technology development and talent cultivation and help promote the development of China's big data technology and industrial ecology.
(Written by ZHANG Boxian, edited by LU Hongyu, USTC News Center)