QS World University Rankings by Subject 2021 was released in March. On the subject of Computer Science and Information Systems, USTC ranked No. 77 (No. 6 in Mainland China),improving 20 places compared with the ranking of 2020, which was the best ranking of USTC in the recent 5 years.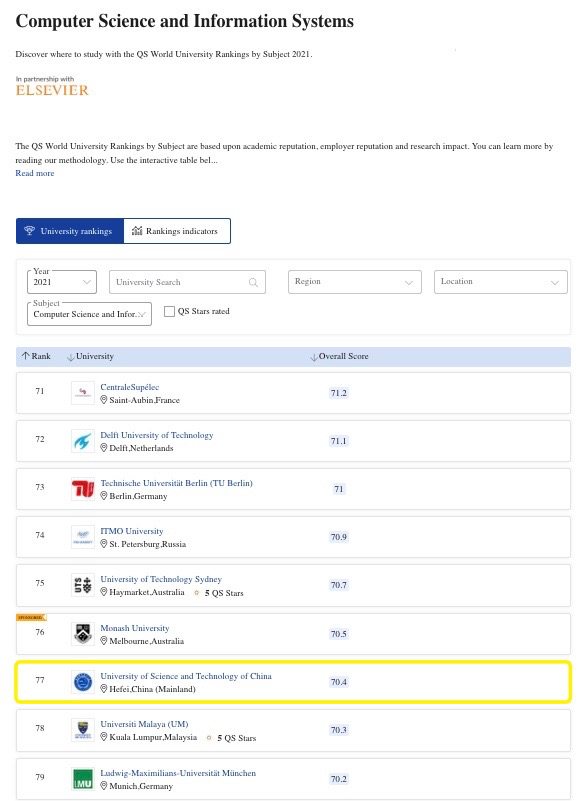 In 2020, School of Computer Science and Technology has shown substantial growth in scientific research projects, published papers, patent applications, and scientific research awards. High-level scientific research achievements continued to emerge, and the quality of scientific research continued to improve. The School set up 74 new projects, and the total contract funding exceeded 100 million yuan for three consecutive years. With our School as the first author's signature unit, nearly 150 papers were published in academic conferences and journals (including Chinese journals) in category A and B recommended by the China Computer Federation. A number of achievements were awarded, including the 1st prize of the 10th Wu Wenjun Artificial Intelligence Science and Technology Progress Award, the 2nd prize of Natural Science Award of Anhui Science and Technology Award, and the best paper awards or nominations of academic conferences.
Computer Science and Information System of USTC ranked among global TOP 100 for 5 consecutive years (2017-2021). Especially in the current global COVID-19 pandemic situation, such excellent result fully proved that the Computer Science and Information System of USTC was highly recognized in teaching level, scientific achievement and international vision. We will continue to commit to talent cultivation and research innovation.
【Ranking Basis】
QS World University Rankings by Subject 2021 was compiled by QS Quacquarelli Symonds, the world's leading provider of services, analytics, and insight to the global higher education sector. The ranking conducted an independent comparative analysis of the performance of 13883 disciplines of 1440 universities. Students of these universities were from 85 regions around the world, and across 51 disciplines and 5 academic fields.
The Ranking Basis includes the following 4 items:
① The professional evaluation and recognition of the discipline by the world's top experts and scholars
② Evaluation and recognition of graduates of the discipline in global top employers
③ The citations per paper of the discipline in the past 5 years in the SCOPUS, the world's largest paper reference database
④ The H-index of the discipline