On April 10, the ceremony of the 10th WU Wenjun AI Science and Technology Award was held in Beijing. The project, Key Technology and Application of Adaptive Learning for Intelligent Education, completed jointly by Iflytek Co., Ltd and team led by Professor CHEN Enhong from the University of Science and Technology of China (USTC) won the first prize, as one of the eight top winners among 100 awarded projects.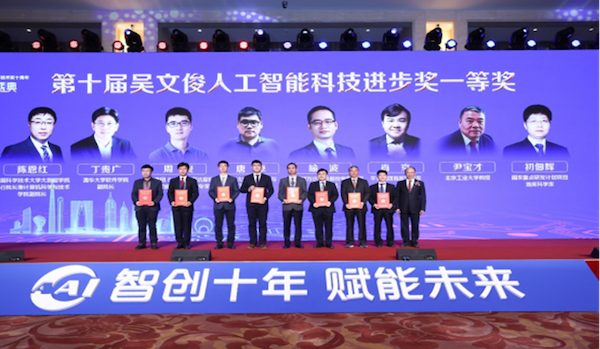 CHEN's team is one of the eight first prize winners. The slogan below reads "ten years of intelligent creation opens a future with possibilities." (Image provided by School of Computer Science and Technology)
During more than ten years of collaborative research, the project team proposed a new data-driven pattern for teaching resource representation and application.
Based on deep learning technologies, the team established a new general framework to analyze cognitive state of learners. In addition, the team designed a new adaptive learning recommendation technology to fit different scenarios.
The model and method laid foundations of Zhixue Net, an intelligent education system for basic education, which has been promoted in more than 16,000 schools in China, benefiting about 25 million teachers and students.
These achievements made by the team are conducive to changing the status quo of one-size-fits-all education, optimizing the way of teaching and greatly improving the learning efficiency of students.
WU Wenjun AI Science and Technology Award is named after Academician WU Wenjun, a scientist, pioneer and leader of China's intelligent science research, winner of the first Highest Science and Technology Awards. The award is regarded as the most preeminent award in the field of intelligent science in China.
Led by Professor CHEN, Anhui Key Laboratory of Big Data Analysis and Application is the first provincial key laboratory in the field of big data. The intelligent tutoring platform, Codia Programming, is developed by members of the laboratory, which has been tried out in some undergraduate courses related with coding in USTC.
(Written by DUAN Qingrong, USTC News Center)